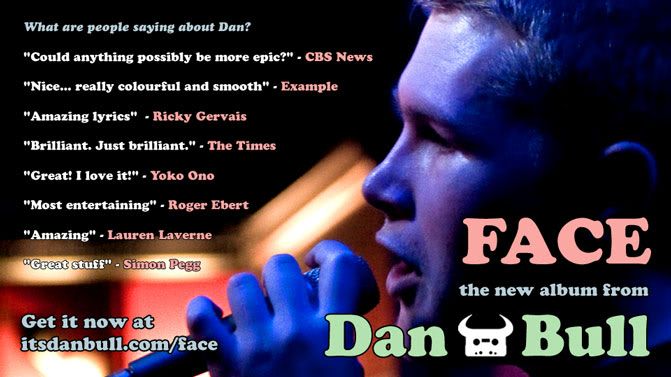 GET THE ALBUM
Buy on iTunes: http://itunes.apple.com/gb/album/face/id485086214
Buy on 7digital: http://www.7digital.com/artists/dan-bull/face/
Free download: http://www.mediafire.com/?omhywb8k17iv7k
You can also buy the needlessly extravagant edition of the album, featuring instrumentals and acapellas of all 12 tracks, either on iTunes or Amazon.
Want the CD version? I have news for you. There's only one copy of the CD in existence, and I'm selling it for £1,000,000. That's right - I'm compensating for an age without scarcity by artificially inducing some scarcity of my own. Seriously, I'm selling this disc for £1,000,000. Take it or leave it. Serious offers welcome...
God,  I've just realised something. Buy the digital version instead of the CD copy, and you'll be saving about £999,995! How can you possibly turn down an offer like that?
Love, Dan x
Click the titles to listen to each track on YouTube.